On behalf of HDFC Bank, customers have been informed by writing an email that some services will remain closed due to system maintenance and upgrade. This step has been taken by the bank to improve its services.
In the mail sent to the customers by HDFC Bank, it was written that we are committed to provide good banking services to our customers. We will be temporarily suspending some of our services for maintenance and upgrades to our systems. It is a matter of relief for the customers that the maintenance and upgrade work of this system will be done between 3 am to 6 am. Banking services are generally less used at this time.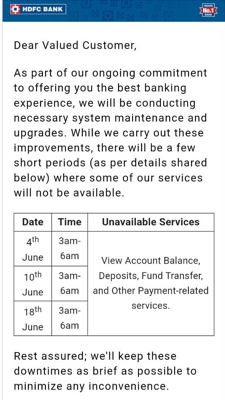 According to the mail made by the bank, services related to balance checking, deposits, fund transfer, and other payments will remain closed on June 10 and June 18. Banking services were suspended between 3 am and 6 am on June 4 for a system upgrade by the bank. Along with this, it was said in the mail by the bank that every possible effort will be made to reduce the downtime.